Museums on the island of Crete
---
The Achaeological Museum of Heraklion houses an unequaled collection of finds from all the periods of Cretan history, from Neolithic to Roman times, covering a period of six millennia. Among these, the most important findings are the ones from what is believed to be the first great European culture, the Minoan civilization.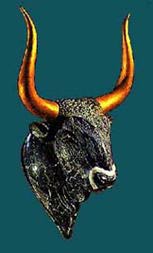 According to historic and archaeological sources, the Minoan culture came into existence about 3500 years ago and flourished for centuries reaching a cultural high point on the island of Crete between 1700-1450 B.C. A visit to the palace of Knossos (a few kilometers from Heraklion) gives an impression of the scale and grandeur of Minoan culture. Many beautiful works of art are on display in the Heraklion museum, along with a unique collection of ancient valuables.

The museum consists of twenty halls in which antefacts are laid out in such a way that the visitor can follow the progress of the Minoans chronologically, room by room. Exhibits that have been dug out of palaces, houses, caves and graves are all displayed in units according to where they were found. The visitor will find outstanding examples of minute sculpture, ceramic art, masonry and cameos carved on tiny surfaces, as well as an array of precious jewellery, metalwork, furniture, tools, household items, weapons and idols.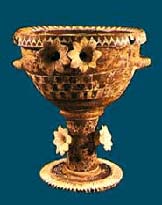 All these give us some indication as to the Minoans lifestyle, while the amazing collection of colorful frescoes bears witness to a world of sensitivity, tenderness and liveliness. They refer to the Minoans great love of movement and games, and express the joy that this ancient race found in nature and the world around them. We strongly recommend a visit to the Heraklion museum. Excellent guidebooks are available in almost every European language for further information, and buses run daily from Rethymno to Heraklion see a Travel Agent or Tourist Information for more details.
ADDRESS:
Xanthoudidou 2 Str., Τ.Κ. 71202, Herakleion (Prefecture of Iraklio)
Telephone: 2810 279000, 2810 279002, 2810 279087
Fax: 2810 279001
Opening hours
Winter:
From the 1st of November 2017 until the 31st of March 2018:
Monday 10:00 - 17:00
Tuesday-Sunday and bank holidays 9:00 - 16:00
Summer:
From the 1st of April 2018 until the 31st of October 2018 (provisionally):
Monday: 8:00 - 20:00
Tuesday-Sunday and bank holidays 8:00 - 20:00

Holidays
1 January: closed
6 January: 08:30 - 15:00
Shrove Monday: 08:30 - 15:00
25 March: closed
Good Friday: 12:00 - 17:00
Holy Saturday: 08:00 - 15:00
1 May: closed
Easter Sunday: closed
Easter Monday: closed
Holy Spirit Day: 08:00 - 20:00
15 August: 08:00 - 15:00
28 October: 08:00 - 15:00
25 December: closed
26 December: closed
Archeological Museum of Heraklion - official page
---